Focus on Puerto Vallarta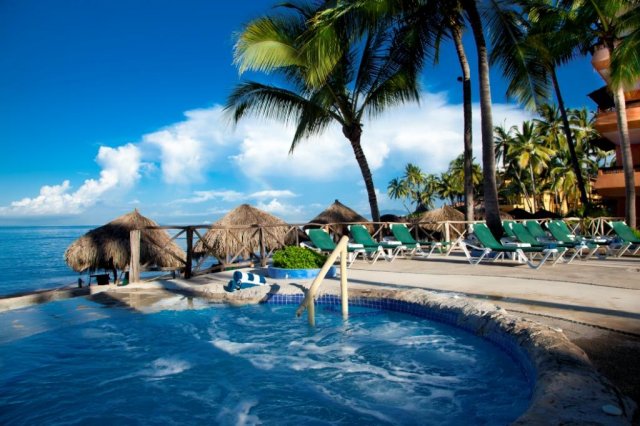 Puerto Vallarta in Mexico is a gorgeous resort city full of vibrant people and palm fringed beaches. Whether you wish to make it a holiday or a permanent destination, Puerto Vallarta as a city will prove to be unlike no other. Come visit Puerto Vallarta with us and find out how you can enjoy your 55+ lifestyle in this marvellous city on the Mexican Riviera.
About Puerto Vallarta
Puerto Vallarta is a tourist city in Jalisco State. Located on the Bay of Banderas on the Pacific coast, it is approximately 400 miles west of Mexico City. Its location and geographical statistics make Puerto Vallarta an ideal beach vacation destination. The weather is lovely with moderate temperatures -in November and December. Summer months(June to October), are the warmestmonths of the year, perfect for doing nothing but lounging on the beach under a palapa. For those snowbirds looking for a 55+ retirement place or a second home this is an ideal location.
Tourism is the main industry in Puerto Vallarta comprising more than 50% of the workforce; however agriculture is also an important industry. Main crops grown in the Ameca valley ( the agricultural area), are flour corn, sweet corn, dry beans and watermelon, fresh chili and tobacco. Fruits are also grown in various parts of the country with banana in the Ameca valley, mango in the low hills and avocado above the city. Fishing is also a significant industry and is very popular in the Bay of Banderas.
Things to Do in Puerto Vallarta
With mountains, rivers and emerald green coastline, Puerto Vallarta is perfect for retirement adventures. Puerto Vallarta is romantic, quaint and full of history. This city offers you everything you need from relaxing beaches to world-class restaurants to extreme adventure to marvellous sights. Fishing, sailing, snorkelling, swimming and hiking are all available at your whim in Puerto Vallarta. You may consider a visit to Los Arcos, an underwater nature preserve, and Isla Del Rio Cuale, an island in the Cuale River, which offersa wide selection of restaurants, shops and boutiques, a botanical garden, and a museum.Take a walk down The Malecon, a half mile promenade that goes into the city's historic center. The Maleconis ideal for listening tolive music and enjoyingthe night life and cafes lined along the way. It is also the ultimate place to experience a breath-taking sunset, with perhaps a chilled margarita.
If you are interested in a round or two of golf, there are a few 18-hole golf courses in Puerto Vallarta,with new ones under construction. All courses are extremely good and provide you the terrain needed for a challenging and enjoyable game. Tennis enthusiasts can enjoy clay and hard courts at hotels and resorts which are open to the public, and also hire a private instructor if required. Puerto Vallarta is a shopper's paradise. What do you need? Is it a small trinket souvenir of this lovely city or are you looking for a more upscale shopping experience? You can find both and something in-between here. Time to shop is a must when in Puerto Vallarta. So, do not forget to set time out in your busy schedule just to savour the wares.
If you are considering retiring to Puerto Vallarta in Mexico, you have made the right choice. This is the perfect place where life goes at your own pace. You can embrace life and take the time to enjoy a perfectly, relaxed way of life.
Active Adult Communities in Puerto Vallarta
The Front Beach Retirement Mexico is an independent/supportive living active adult community ideal for the relaxed lifestyle you need. Guess what? This retirement community is on the beach! What more could you ask for… The community also features two pools and a hot tub, large, cozy, fully furnished, air-conditioned rooms with excellent views of the ocean. If that is not enough, you also get 60 cable TV channels and Wi-Fi access. If you are in the mood to try out some delicious goodies, you can try the "Palapa" restaurant that provides a buffet with all types of mouth-watering dishes to tickle your taste buds or order from the a la carte menu. So, this is one more reason to consider retiring to Puerto Vallarta. Imagine the fun you will have living here!
You can check out more details on this fabulous Active Adult Community via Active Adult Living.Com®