Windridge Landing by Ryland Homes Provides One of the Best Active Adult Living to Live In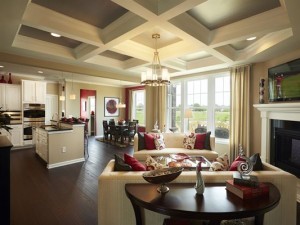 Indiana is a state with broad plains, many lakes and streams, and is certainly a good place to retire to. If you are considering a move to Indiana, you should definitely check out the many active adult communities in this region. There are 126 to choose from and one of these communities is Windridge Landing in Brownsburg. With homes of upscale design and quality, you can be sure you enjoy every minute you spend in this community.
About the Community
This community is fairly small featuring only 22 single-family detached homes. The most recent addition to this community is the Estate Collection of homes. Home prices range from $301,000 to $430,000. The community has 7 floor plans to choose from. Homes at Windridge community feature 3 – 4 bedrooms, 2 – 3.5 baths, gourmet kitchens, 2 – 3 car garages, and basement, and high ceilings, large windows with plenty of natural light, energy-efficient features and a host of other modern facilities that make your life easy. If you have always wished for an affordable, yet modern and comfortable home in an upscale location, this is the community that will make your dream come true. Why not book a visit to this great Active Adult Living today and experience the location firsthand?
Amenities and Facilities
Windridge Landing is located in proximity to just about everything and getting there is easy as it is situated within easy highway access. If you wish for picturesque parks, you've got some close to the community. If you wish for top shops and premier restaurants for dining pleasure, you've got these too. You are also in proximity to medical facilities as this is a question on most every senior's mind. You can enjoy your days and nights in the peaceful surroundings of this community knowing you are safe and wake up to many eventful days in this community. Seniors who wish for an active lifestyle will definitely find what they want in this community.
About the Builder
Windridge Landing is a Ryland Home community. They have been around building quality homes for more than four decades and currently is the 7th largest home developer in the country with over 300,000 quality homes in their portfolio. Their home designs, attention to detail and commitment to ensure satisfaction from all homebuyers makes this builder one you can trust explicitly to make your homebuilding experience memorable and easy. They consider their customers' requirements and hence, you can be sure your home is built the way you want it to be.
If you are interested in buying a home that reflects your taste and style, you should pay a visit to Windridge Landing. You will realize why this community was added to Money Magazine's "Top 100 Best Places to Live 2011".
Are you looking for retirement communities and have no idea how to find what you want? Don't worry. Visit our website ActiveAdultLiving.com® the number one website for all your active adult community information. Your search will be easy and varied as there are over 5,900 communities to choose from. Good home hunting for the best of Active Adult Living.