Spend a Perfect Summer Weekend in California's Danish Village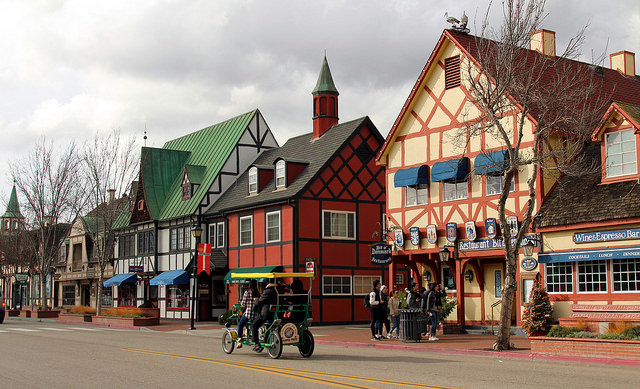 Two hours north of Los Angeles, a statue of Hans Christian Anderson's The Little Mermaid sits gracefully atop a trickling fountain as she watches over her charming little village. Founded in 1911 by three Danish immigrants, Solvang, California is a storybook town nestled in the heart of the Santa Ynez Valley – an enchanting vision of old world Denmark, romantic B&B's, and irresistible aromas wafting from the many restaurants and bakeries that line its brick-paved sidewalks.
If all you have time for is a quick weekend getaway, pack an overnight bag, and head to Central California's bountiful wine country. As you veer off of Highway 101 and make your way into town, there's something about being greeted by towering windmills, and authentic replicas of traditional Danish architecture that melts away the pressures of everyday life. Aside from the occasional marine layer which eventually dissipates into blue skies, the weather is fantastic all year long, so all you really need to bring is a pair of comfortable walking shoes, and maybe a light jacket.
Solvang always has a festive ambiance whether you're here for Danish Days in September, or during the holidays when the town is dressed to the nines in twinkly lights, and garland. In fact if you're looking to add another nutcracker to your collection, Solvang's Yul Hus Christmas shop keeps its doors open all year long, (can we say Christmas in July?) As you leisurely wander through streets filled with smiling visitors, while a Clydesdale drawn trolley makes its touring rounds, you'll find shop, after shop of unique finds from speciality foods, and fine jewelry, to luxurious leather goods, and cuckoo clocks.
One word of advice – if you're coming to Solvang, arrive hungrily. Start your morning with a custard filled Danish Kringle or melt-in-your-mouth butter cookie at Olsen's or Mortensen's bakery – family-owned businesses who've been serving their buttery indulgences for decades. Some things are worth the wait, and the iconic Aebleskiver -Danish pancake ball- is one of them. Follow the sweet smell of syrupy goodness to the little window (often with a line) where you'll find pillowy clouds of bliss tucked beneath a snowfall of powdered sugar, and if you need a treat for your trip home, stop at Ingeborg's for handcrafted chocolate covered euphoria. This is wine country after all, so naturally, the best way to cap off the day is with a local varietal, and fine California cuisine at places like Succulent Cafe, or Root 246. If you're in the mood for traditional fare, Bit O'Denmark is a mainstay for authentic Danish bites with a rustic atmosphere. The best way to end your trip to Solvang is to plan your next visit. Stock up on souvenir postcards, and make sure you took plenty of photos because you'll be missing this captivating destination once you're back home.
---