Seattle Age Friendly Community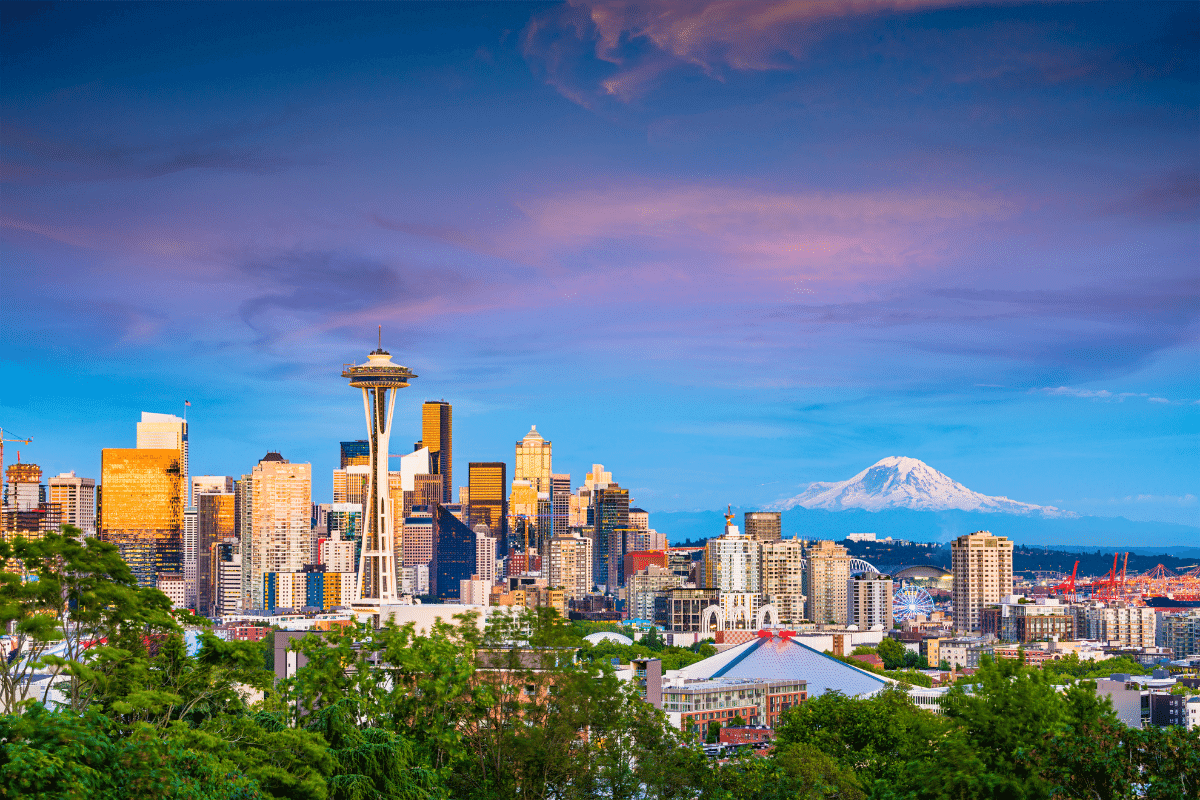 Seattle, Washington reminds me of rainy days, cozy coffee shops, and lively city life. A member of AARP's age-friendly community initiative, and a Pacific Northwest haven for 55+ active adults, the city offers all things metropolitan while being surrounded by lush green, hence its namesake the Emerald City. Senior living in this corner of the world offers walkable downtown areas, convenient public transit, and state-of-the-art healthcare facilities. As the baby boomer demographic continues to dominate our population, creating a city to age in place is a top priority for Seattle's city planners.
Seattle's notoriety lies beneath its gray skies, but there is something about the bright lights, and city vibe that draws boomers, and retirees to this amenity-rich destination. The fact that Seattle is the birthplace of Starbucks, you can see Mt. Rainier from downtown, and the stunning San Juan Islands are just a ferry ride away, are reasons enough to consider relocating. Located along Puget Sound, towering skyscrapers, and evergreen mountain trails, offer a diverse landscape for nature lovers, and urbanites alike. Kiplinger listed Seattle as one of the nation's healthiest cities, and active adults regardless of fitness level have access to outdoor recreation, gym facilities, and a chance to get fresh at one of the local farmer's markets.
Important aspects of designing an age-friendly community are providing affordable housing, outdoor spaces, and accessible community services. Seattle is the ideal city for seniors who no longer drive, or who prefer to save on vehicle maintenance costs. Explore on foot or by way of the variety of public transit options available such as streetcars, Link Light Rail, and Seattle Center Monorail. Disabled individuals, or folks 65+ can purchase Regional Reduced Fare Permits for an affordable way to navigate the city. Seattle's regional trail system offers bike-friendly routes with options for savvy riders or dedicated traffic-free paths.
From coffee clubs for java-loving seniors to a night with the Seattle Symphony Orchestra, there is no shortage of amenities for an active retirement. Home to the Seattle Seahawks, the EMP Rock 'n' Roll museum, and the iconic Space Needle, Seattle is a vibrant epicenter of entertainment. 55+ active adults and baby boomers still climbing the corporate ladder will appreciate the city's low unemployment rate and tax-friendly economy. With the aroma of espresso wafting through the streets, and desirable neighborhoods like Madrona, or Ballard, Seattle may just be the perfect spot to spend your golden years.