How to Spend 2 Days in Plymouth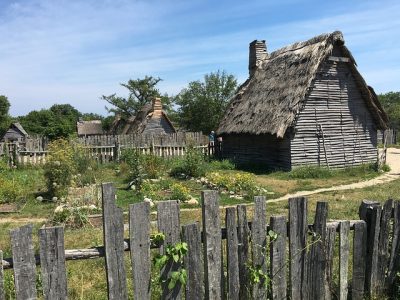 Spiced cider, burnished piles of fallen leaves, if you're craving all the autumn vibes but only have time for a weekend getaway, book a trip to Plymouth Massachusetts. Immortalized as the place where the Mayflower's arrival in 1620 began a tradition that graces our tables every 4th  Thursday of November, it makes for the quintessential fall destination. Located 40 miles from  Boston, Plymouth packs centuries of rich history, revered monuments, and modern attractions into a modest 134 square miles.
You know those storybook 18th-century buildings with the quaint shutters and intoxicating scents of espresso and baked goods wafting from their doors? This kind of ambient sustenance is exactly what Plymouth is known for. From a morning cup of freshly brewed perfection and a  cinnamon roll from Blue Blinds Bakery to a decadent sandwich to go from the Jolly Bean Cafe,  this beautiful little town knows how to nourish a full weekend of sightseeing.
One could easily spend a week in Plymouth and not have a chance to delve into everything it has to offer, so to get the most out of this storied charmer, taking a walking tour is the perfect way to go. From the Spirit of Plymouth Walking Tour paying tribute to the early Pilgrims,  including the Plymouth Rock Monument, exploring downtown, and hallowed Revolutionary  War landmarks, to Jenny Museum's Discover Plymouth's History walking tour where you'll be  immersed in the history of the Forefathers Monument, a stunning depiction of our forefather's  brave pilgrimage to shore.
What is is more Autumnal than being knee deep in cranberries? If you're lucky enough to be here in October, nearby Wareham pays homage to these tart little rubies with a harvest celebration of music, activities, food demos and the chance to get a glimpse into how this jeweled fruit goes from bog to table. Even if you miss the festivities the A.D Makepeace  Company offers guided tours of the harvest process, along with specialty shops for those essential souvenirs, cozy restaurants, and if you're feeling particularly outdoorsy, you can even rent a kayak.
After you've visited the recreated Mayflower II, and strolled Plymouth's boat studded waterfront, it's time to head downtown. This town elicits the charming feel of a New England seaside village with maritime treasures like Water Street with its irresistible Cape Cod architecture, quaint boutiques, and cafes, and The Village Landing Marketplace boasting cozy eateries and local shops tucked beneath brightly colored awnings and storybook storefronts. Cap off your day on Main Street at the Main Street Bar & Grill or WaterFire Tavern, but don't forget to stop at Cupcake Charlie's for a dozen pillowy clouds of frosted heaven to take back home with you – and maybe share.
Featured Community in Plymouth MA – Summer Reach – Get more information