Focus on Tennessee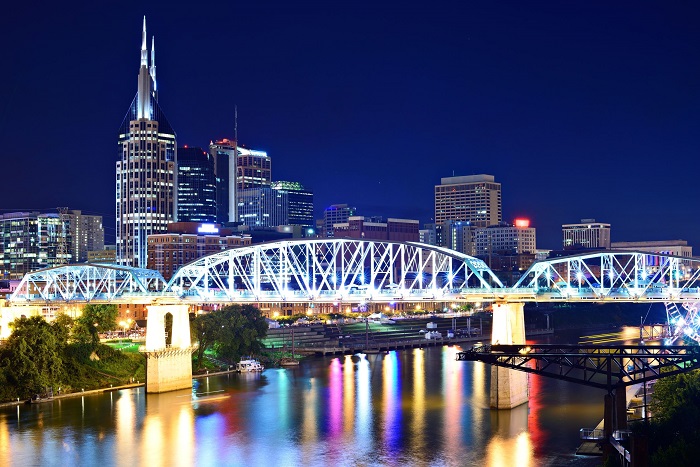 When you think of Tennessee, it is sure to conjure the image of Elvis, the late King of Rock and Roll.  However, Tennessee offers so much more.  Tennessee is full of beauty, southern hospitality, a low cost of living, four seasons of weather and land that offers just about anything for everyone.  If you are considering moving to Tennessee in your retirement years, let us provide you a few more reasons to add more weight to your choice.
About Tennessee
Tennessee is stretched almost 500 miles between the Mississippi River on the West and the Appalachian Mountains on the East.  This state has three distinctly different regions: East Tennessee, Middle Tennessee, and West Tennessee.  East Tennessee is high in altitude and densely wooded home of the Great Smoky Mountains.  Although initially isolated because of its rugged terrain, today, East Tennessee has become the industrialized heart of the state.  Rolling hills, the Cumberland Plateau and gentle bluegrass meadows are yours if you choose Middle Tennessee.  This part of Tennessee is also known for its fine Tennessee Walking Horses.  West Tennessee is part of the Mississippi flood plain with rich soil that makes it an ideal location for growing cotton and Memphis, the home of the blues.
Tennessee is also known as the "Volunteer State" because many brave men volunteered to fight Britain in the War of 1812.  Tennessee supported the Confederacy during the Civil War and was the scene of extensive military action.  This state has more Civil War battlefields than any state other than Virginia.  You can also see a perfect replica of the Greek Parthenon in Nashville, or visit Elvis' Graceland in Memphis.
Today, Tennessee has a population of approximately 5.9 million.  Many people live in and around Nashville, Memphis, Knoxville, and Chattanooga.  However, there are lots of other places and things to see in Tennessee.  For example, resorts in Gatlinburg and Pigeon Forge, year-round golf and outdoor activities, canoeing in the rivers and fishing the lakes, visit the Hidden City, Oak Ridge Atomic Energy Museum, Grand Ole Opry, the Lane Motor Museum, see the National Civil Rights Museum and the Memphis Botanical Gardens and for year-round live theater, the rural Cumberland County Playhouse.  Enjoy big college sports at Vanderbilt or the University of Tennessee or the NBA Memphis Grizzlies and the NFL Titans.  There is so much to see and do in Tennessee; you will not miss your old home for a second.  You can Google any or all of these and put them in your favorites.
No State Income Tax
Your money will go farther here – low property taxes, low cost of living, low recreation costs, low real estate costs.
In U.S. state taxation Tennessee ranks near the bottom in per capita taxes.
 Wherever you are, when it comes to expenses in Tennessee, just think "less".
Active Lifestyle in Tennessee
There are 86 active lifestyle communities, in Tennessee, for 55+ adults.  You can consider a home in any one of these communities and spend the rest of your retirement years in contentment.  What's your game?  Are you passionate about golf, tennis, swimming, hiking, biking or horseback riding?  You'll find all of these activities and so much more in Tennessee!
Homes range from single-family detached to condominiums to villa-style manufactured homes.  Your life will be one of leisure and just the right amount of activity when you consider a home in the beautiful state of Tennessee.  Some of the randomly chosen communities from Tennessee are mentioned below:
Further information these and 80 more great communities can be found on the Tennessee State Directory Page of ActiveAdultLiving.com – our comprehensive national directory of more than 8,500 communities where you are sure to find a community that fits your requirements.