Florida, often referred to as "The Sunshine State," offers a unique blend of stunning beaches, vibrant cities, and a diverse culinary scene, making it a desirable place to live. However, the cost of living can be a significant factor when deciding to relocate. This post delves into some of the cheapest places to live in Florida, particularly focusing on cities that offer a lower cost of living without sacrificing quality of life.
Before we go through the list, Let us understand what the cost of living means. The cost of living refers to the amount of money needed to maintain a standard of living, factoring in expenses like housing, groceries, utilities, transportation, and healthcare. These costs vary widely from city to city and state to state.
Florida boasts a robust economy, with industries such as tourism, agriculture, and manufacturing contributing significantly to its economic output. The state's average income is competitive when compared with the national average, and its unemployment rate is relatively low, leading to a myriad of employment opportunities across various sectors.
Top 8 Cheapest Cities in Florida
Lakeland
Lakeland, located in Polk County, is known for its old-world charm and scenic beauty. Nestled between Tampa and Orlando, it offers residents a relaxed lifestyle without compromising access to urban amenities. The city's name is derived from its abundance of nearly 40 lakes, which serve as popular spots for boating, fishing, and nature walks. The median home cost in Lakeland, significantly lower than the national average, coupled with affordable living expenses, makes it an attractive option for those seeking residence in Florida.
Jacksonville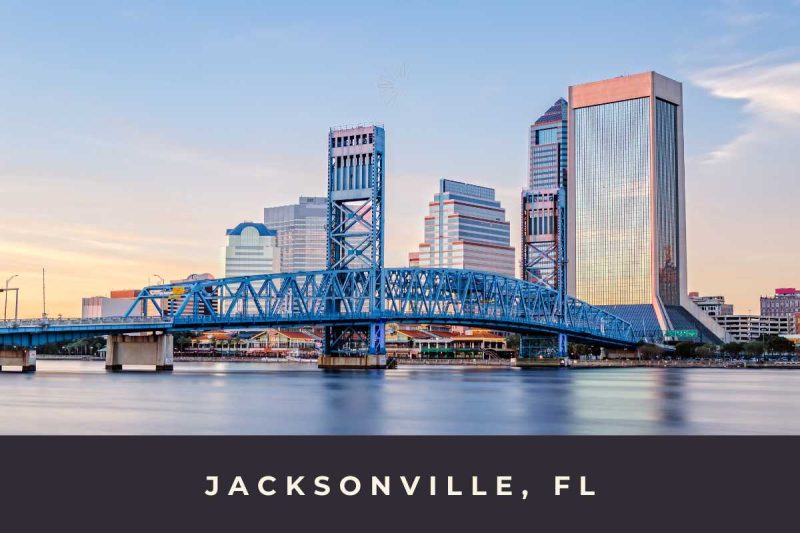 Jacksonville, the largest city by land area in the continental United States, is located in northeast Florida. The city is known for its diverse neighborhoods, stunning coastlines, and an exciting food scene. It is home to a wide variety of attractions including the Jacksonville Zoo, the Museum of Science and History, and the St. Johns River – a hub for water-based recreational activities. Its vibrant arts and music scene, coupled with relatively low living costs and a strong job market, make it an appealing destination for those planning to move to Florida.
Pensacola
Pensacola, a waterfront city in northwest Florida, is steeped in history. Known for its stunning sugar-white beaches and emerald-green waters, it's the perfect destination for those who enjoy the outdoors. The city boasts a rich historical heritage, with numerous historic sites and museums including the Pensacola Lighthouse and Museum, Fort Barrancas, and the Historic Pensacola Village. It also hosts Naval Air Station Pensacola, making it often referred to as "The Cradle of Naval Aviation". Its low cost of living, vibrant culture, and warm, friendly community make it an attractive place to reside.
Sarasota
Sarasota, situated on the Gulf Coast of Southwest Florida, is renowned for its cultural richness and natural beauty. This city is a paradise for beach lovers, boasting the world-famous Siesta Key Beach among its many delightful coastal offerings. Sarasota is also a haven for art enthusiasts with a plethora of galleries, museums, and the iconic Ringling Museum of Art. With its affordable cost of living, vibrant downtown area, and wide array of recreational activities, Sarasota holds a charm that appeals to both retirees and young professionals.
DeLand
Deland, the county seat of Volusia County, is a thriving city with a heart for arts and culture. The city is home to Stetson University, Florida's oldest private college, and boasts a lively downtown area filled with art venues, boutiques, and eclectic restaurants. Deland's location allows for easy access to both east coast beaches and the theme parks of Orlando, adding to its appeal. The cost of living in Deland is relatively low, making it an attractive choice for families and retirees alike.
Cape Coral
Cape Coral, located in Southwest Florida, is known as a 'Waterfront Wonderland,' with over 400 miles of navigable waterways, more than any other city in the world. This city has a reputation for its wildlife, fishing, and many outdoor activities due to its proximity to the Gulf of Mexico. Cape Coral is also known for its sun-drenched festivals, and family-friendly amenities, making it a popular destination for retirees. Its cost of living is relatively low compared to other Florida cities, and it offers a variety of housing options, from affordable homes to luxury waterfront properties.
Dade City
Dade City, the county seat of Pasco County, exudes an alluring small-town charm. Known for its antique stores and historic architecture, the city's southern hospitality is evident in its friendly residents and community-driven events. Dade City is famous for the annual Kumquat Festival, showcasing local arts, crafts, and the unique, tangy fruit. With its affordable cost of living and the close-knit community feel, it's an inviting destination for those looking for a quiet, relaxed lifestyle in Florida.
Gainesville
Gainesville, home to the University of Florida and the Florida Gators, is a city teeming with youthful energy and rich cultural diversity. Known for its thriving arts scene, excellent healthcare facilities, and numerous outdoor recreational opportunities, it's a vibrant city that offers a high quality of life. Gainesville is also a hub for innovation and education, attracting students and professionals from around the globe. Its cost of living is reasonable, making it an appealing destination for those seeking both urban amenities and the charm of a college town.
Kissimmee
Kissimmee, situated in Central Florida, is renowned for its proximity to world-famous theme parks like Walt Disney World Resort, Universal Orlando Resort, and SeaWorld Orlando. Despite the thrilling attractions nearby, the city itself offers a serene retreat with the beautiful Lake Tohopekaliga, often referred to as Lake Toho, providing opportunities for boating, fishing, and bird-watching. Kissimmee's vibrant downtown area showcases a blend of boutique shopping, dining, and a lively nightlife scene. With a relatively low cost of living and diverse housing options, Kissimmee is an appealing choice for families and theme park enthusiasts.
Florida offers a diverse range of cities that combine affordability with a high quality of life. Whether you're a young professional just starting out, a family looking for a safe and vibrant community, or a retiree searching for a budget-friendly city that doesn't skimp on amenities, there's a city in Florida for you. Consider these cities when planning your next move, and experience all the beauty and vibrancy that Florida has to offer without breaking the bank.
RESOURCES:
Unemployment Rates for States (bls.gov)
U.S. Census Bureau QuickFacts: United States
Join the AAL Newsletter
Get the best content in your inbox every Monday morning. Stay up to date with the latest featured communities and updates.