Champlin Woods Condos for Luxury Elevated Apartment Homes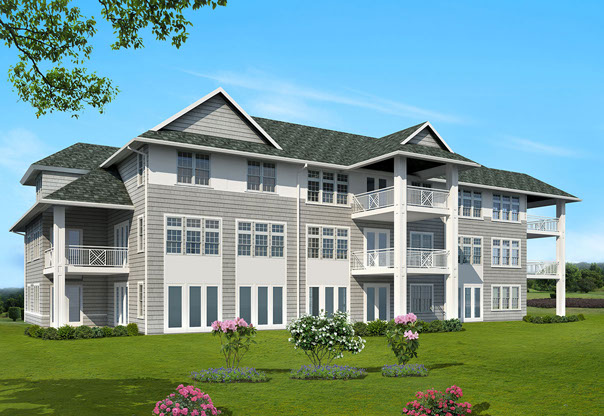 Welcome to a NEW luxury development on the Rhode Island Shore between Watch Hill and Weekapaug. We are the sister development to Winnapaug Cottages and are located near 128 Shore Road, a mile from the Atlantic Ocean. We broke ground for the first elevated condo building this July and the first building of 8 units is already completely reserved. We are already taking reservations on the second building. The Champlin Woods Condo is 5 buildings with a total of 40 units. It is designed for fully independent living with concierge services. The buildings are three-story elevated buildings that each look much like a large seaside mansion.  
Many of the units have wonderful views of the Atlantic Ocean and Winnapaug Pond with Montauk and Block Island in the distance. One mile from the ocean but at 52 feet above sea level—so no worries of tidal flooding! The condos are one bedroom plus study to two bedroom plus study units. Those familiar with the area know the fabulous beaches, the blue water sailing, the golf courses, the anchorages, dockages and convenient shopping. With charming shops in a lively downtown and the nearby shopping center anchored by Stop & Shop and CVS, this location is triple A! Peruse the website or call 401 596 3000 x1 for a free packet of plans or a guided tour. We would love to show you around!
Five Buildings, Three Stories Each
• Heated parking under each condo building
• Shake shingle siding
• Interior finish to your custom requirements
• Only two or three units per floor
• All units have private terraces measuring at least 13 by 14 feet or
covered patios measuring at least 12 by 14 feet
• Pet and grandchild friendly
• Clubhouse capable of serving congregate meals
• Clubhouse for gathering and recreation to be built
as the first building goes up
• From one bedroom plus den to two bedrooms plus den
• From 1159 sq. ft. to 2104 sq. ft
• Priced from $384,000 to $724,000
Champlin Woods is being developed by Newbury New England L.L.C., a Rhode Island Corporation. The parent company is Newbury Development Company of Des Moines, Iowa. Newbury is an experienced developer of luxury retirement housing with 3801 Grand and Grand Suites in Des Moines, Iowa and Melrose Meadows in Iowa City, Iowa. Newbury's other line of business, the development, renovation and management of multifamily housing in Iowa, provides depth to the company's resources.