Category Archives:
Florida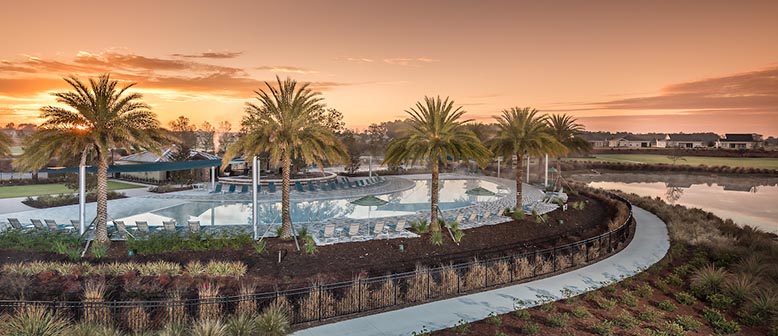 Ready To Join The VIP Club?
How much do we love those vacations where spa days, great food, and plenty of play and leisure are right at our fingertips? Luckily if you're 55 or better, that five-star resort experience doesn't have to be a memory in a scrapbook because Trilogy at Ocala Preserve is the luxury getaway you won't be leaving behind. This expansive Central Florida community proves that life can be fun, and games with the debut of its newest club, Oak House. The stately 15,000 square foot clubhouse is already getting rave reviews for its outstanding service, and modern architectural design, not to mention the endless array of A-Lister amenities.
This upscale, age-restricted community is nestled in the lush green hills of Ocala, so of course, every view from Oak House whether you're enjoying cocktails, playing pool, or swimming laps is pretty spectacular. The concept behind this kind of all-inclusive community is creating the perfect trifecta of social engagement, wellness, and pleasure without ever leaving the comfort of home, and with Oak House at the center of it all why would anyone want to? The club has a timeless, contemporary design that makes it easy to get right in and discover what all the buzz is about. If you've ever imagined what the perfect day would look like, Oak House is a great place to start. From getting an endorphin-boosting workout at Afterburn, and pampering yourself with a massage at Alvea Spa, to savoring culinary delights at the Salted Brick, or hosting a private party at the Chef's Table, the only way cap off all this indulgence is with a sunset on Lakeview Veranda sipping a glass of wine while surrounded by great friends.
According to last year's Census, the number of sun-seeking Floridians over 65 made up 19.1% of the state's population, and the numbers continue to be on the upswing. Tax-friendly, and health-minded, Florida's coastal lifestyle attracts droves of baby boomers from snowbirds to empty nesters with one city, in particular, coming out on top in all its white sanded glory. Rated the number one city by the Gallup Well-Being index, and featured by Forbes, and Kiplinger as one of the best destinations to retire, Naples is as close to paradise as it gets.
Located 40 miles south of Fort Myers, this gulf town is one of the few places where balmy tropical breezes, flip-flops, and beach days are enjoyed even in the dead of winter. Retirees are not only attracted to the flawless aesthetic of Naples with its palm-lined streets, upscale plazas, and colorful Neapolitan architecture, but the lifestyle itself is one that promotes healthy living, rich culture, and a positive perspective. With a laid-back vibe, and clear aquamarine waves brushing up against the white sand, it's easy to understand why they call it the Paradise Coast.