Category Archives:
Active Adult Communities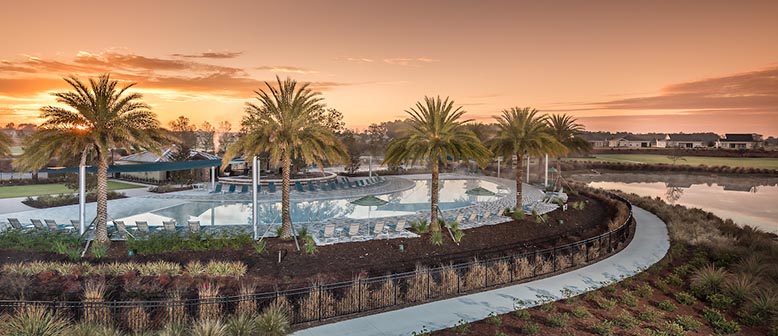 Ready To Join The VIP Club?
How much do we love those vacations where spa days, great food, and plenty of play and leisure are right at our fingertips? Luckily if you're 55 or better, that five-star resort experience doesn't have to be a memory in a scrapbook because Trilogy at Ocala Preserve is the luxury getaway you won't be leaving behind. This expansive Central Florida community proves that life can be fun, and games with the debut of its newest club, Oak House. The stately 15,000 square foot clubhouse is already getting rave reviews for its outstanding service, and modern architectural design, not to mention the endless array of A-Lister amenities.
This upscale, age-restricted community is nestled in the lush green hills of Ocala, so of course, every view from Oak House whether you're enjoying cocktails, playing pool, or swimming laps is pretty spectacular. The concept behind this kind of all-inclusive community is creating the perfect trifecta of social engagement, wellness, and pleasure without ever leaving the comfort of home, and with Oak House at the center of it all why would anyone want to? The club has a timeless, contemporary design that makes it easy to get right in and discover what all the buzz is about. If you've ever imagined what the perfect day would look like, Oak House is a great place to start. From getting an endorphin-boosting workout at Afterburn, and pampering yourself with a massage at Alvea Spa, to savoring culinary delights at the Salted Brick, or hosting a private party at the Chef's Table, the only way cap off all this indulgence is with a sunset on Lakeview Veranda sipping a glass of wine while surrounded by great friends.
Albuquerque, or as locals like to call it ABQ, has a free-spirited character, a vibrant artsy persona, and a centuries-old past. Named one of Sunset Magazine's best cities to live, boasting more than 310 days of sun, and endless opportunities for recreation and entertainment, stopping to take a raincheck isn't really on the radar. This multi-cultural destination is home to the picturesque Sandia Mountains, and mighty Rio Grand River, along with iconic historic landmarks that celebrate the city's Native American, and Spanish heritage. For active adults with a passion for warm desert climates, outdoor fun, and adding green chili to just about everything, Albuquerque is guaranteed to be their soulmate.
Founded in 1706, Albuquerque captures the essence of the Southwest with its showcase of natural beauty and artistic expression. Spanish and Native American cultures converge to create a city steeped in tradition from the historic exhibits found at the Indian Pueblo, and National Hispanic Cultural Centers, to the volcanic rock carvings of Petroglyph National Monument. The true heart of Albuquerque is in Old Town where the streets are lined with Pueblo-Spanish style adobe architecture, and vivid splashes of color adorning storefronts, and museums. Home to more than 100 galleries, stores, and eateries, history buffs, and art lovers will love getting lost in the authenticity of this Albuquerque landmark. Visitors to Old Town can get in the spirit on a ghost tour, explore native horticulture at the ABQ BioPark Botanic Garden, but the food scene is the main attraction. From swanky French cuisine to the kind of authentic Mexican food people write home about, this town has an eclectic mix of palate-pleasing options.