55+ Seniors Enjoy Living in a Maintenance-Free Community – Courtyards at Pepper Creek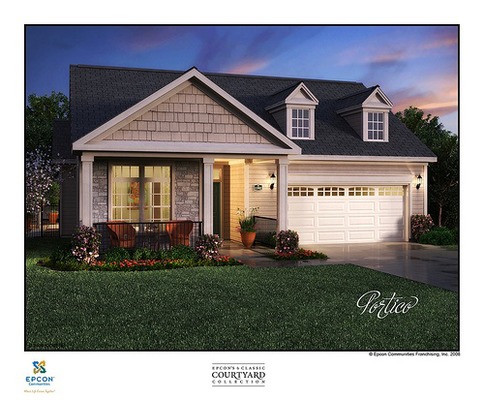 Retirement is all about taking pleasure in the simpler things in life. This does not mean yard work, shoveling snow, and upkeep of the exterior of your home. Retirement means you, finally, get to enjoy what you were dreaming of all the time. Life in a 55+ active adult community ensures you a life where all you have to do is sit back and watch the days go by. If you were looking for a maintenance-free 55+ senior community, you should not miss out on the Courtyards at Pepper Creek in Valparaiso, Indiana.
About the Community
This community features 37 new single family homes. There are three reasonably priced models of homes to choose from featuring 2 – 3 bedrooms and baths and 2-car garages. Elegant living rooms, gourmet kitchens with distinguished center islands, lively sunrooms, private courtyards, walk-in closets, and comfortable dens are some of the features of these models. When you look at these homes, you know there is no compromising on space and comfort and style. Every home is designed to suit the requirements and lifestyle of 55+ seniors, and this is obvious in the fact that all homes are single-story homes. Homes in this community require the minimum of maintenance as it is a maintenance-free community. All your maintenance is handled by the homeowners association. Pay a sensible fee and you don't have to worry about all the hassles that go with maintaining a home.
Amenities and Lifestyle at the Community
The Courtyards at Pepper Creek is centered on providing 55+ seniors a hassle-free active lifestyle. Hence, you will find all that you need to stay entertained in this community. Game nights, book clubs and holiday parties are some clubs and activities organized for you. The 3,000 square foot clubhouse is the hub of all social, recreational and fitness activities. You feel comfortable and welcome the moment you step through the doors of the clubhouse. Here, you can work out at the fitness center, host parties, serve delicious foods from the kitchen, and play billiards with your neighbor buddies. You can sit back and relax and unwind outside by the pool or use the walking and biking trails and enjoy the scenic views along the way. The prime location of the community also enables you to take satisfaction in the many amenities in the Northwestern Indiana and Chicago areas. You can dine, shop or simply look around and waste time as hey, your time is now your own.
Builder Information
The Courtyards at Pepper Creek is by Epcon Communities. Epcon has been in the business of building homes, neighborhoods and lifestyles since its inception in 1986. This builder integrates smart, innovative designs with the latest modern amenities. Epcon Homes are tested for quality by QualityMark. Excellent design and quality work ensure you of a durable, solid home. With Epcon Communities, you know you have selected the right builder.
Retirement is here. Now is the time to enjoy life and do what you want. You can do anything you want if you considered living in this maintenance-free 55+ community. Visit Courtyards at Pepper Creek today and see it for yourself.
ActiveAdultLiving.com® is a website that offers you comprehensive information on more than 6,000 active adult communities. Get in touch with us if you need any information on this or other communities.